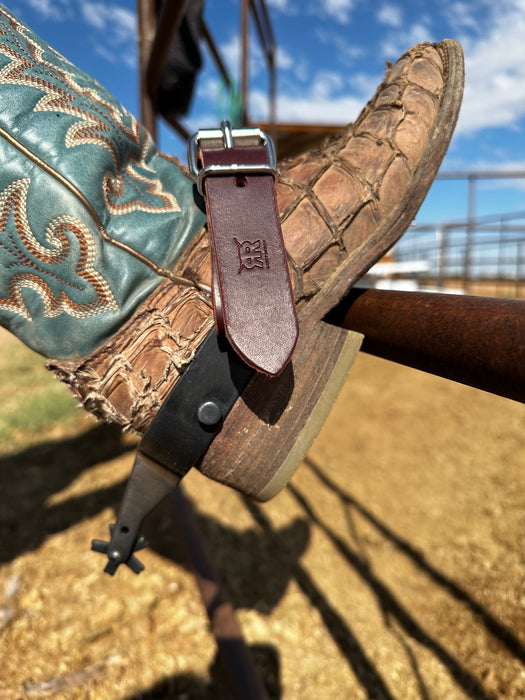 Adult Bull Riding Spur Straps By Rowdy Rowels
Save

Liquid error (snippets/product-badge line 84): Computation results in '-Infinity'

%
Durability Meets Design
 The Adult Bull Riding Spur Straps by Rowdy Rowels are not just your average spur straps. They have been crafted with meticulous attention to detail to ensure they don't just stand up to the task at hand, but excel in it. These spur straps are made with single-ply 1" latigo leather, renowned for its unsurpassed toughness. They are built to endure, ride after ride, making them a reliable choice for both seasoned cowboys and rookies in the rough stock world.
 Designed For Comfort
 These straps aren't just about toughness; they also bring top-notch comfort. Designed with the rider's comfort in mind, they fit snugly on your boots without causing any discomfort. Despite their strength, these leather straps maintain a soft and supple feel. They are easy to adjust and secure, ensuring the spur straps deliver a perfect fit every time.
Excellent Choice
This makes them an excellent choice, offering both quality and quantity. Whether you're setting foot in the arena for the first time or you're an experienced cowboy, these durable and comfortable spur straps are an essential part of your riding gear.
Unparalleled Durability: Our Adult Bull Riding Spur Straps are made from premium single-ply 1" latigo leather, guaranteeing unmatched toughness and longevity.
Crafted with Precision: Each strap is meticulously designed with attention to detail, ensuring a perfect fit and optimal performance during every ride.
Reliable and Trustworthy: Whether you're a seasoned cowboy or a rookie in the rough stock world, our spur straps are built to withstand the toughest rides, making them the go-to choice for any bull rider.
Ride with Confidence: With these spur straps by your side, you can ride fearlessly knowing that they won't let you down. They are specifically designed to stand up to the challenges of bull riding, providing you with unparalleled support and security.
Comfortable Fit: Our straps are adjustable, allowing you to customize the fit to your liking, ensuring maximum comfort throughout your ride.
Versatile Design: These spur straps are not only suitable for bull riding but can also be used for other rough stock events, making them a versatile addition to any cowboy's gear collection.
Eye-Catching Style: The Rowdy Rowels logo adds a touch of flair to these straps, making them a stylish accessory that will surely turn heads in the arena.
Easy to Use: Our spur straps are designed for quick and hassle-free attachment, saving you time and energy before each ride.