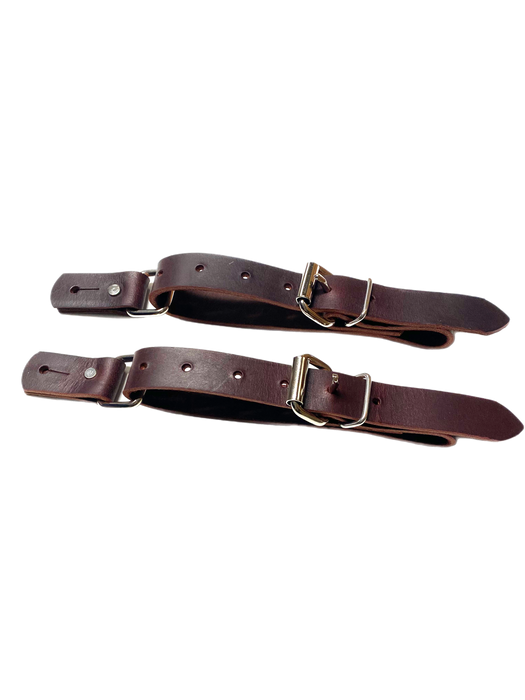 Junior Bull Riding Spur Straps By Rowdy Rowels
Save

Liquid error (snippets/product-badge line 84): Computation results in '-Infinity'

%
Durable Design Details
The Rowdy Rowels Junior Bull Riding Spur Straps exhibit an exceptional blend of craftsmanship and functionality. Made of high-quality Latigo leather, these spur straps are 3/4" wide and provide a secure fit. They are specifically designed for junior bull riding, displaying robust construction for ultimate reliability. The heavy-duty hardware is firmly fastened with solid copper rivets, underlining the product's focus on durability and strength.
Extraordinary Comfort and Performance
Integrating comfort with performance, the Rowdy Rowels Junior Bull Riding Spur Straps offer outstanding flexibility without compromising on toughness. The use of Latigo leather not only ensures long life but also delivers a comfortable fit for young riders. This reduces the risk of blistering and chafing, allowing the young riders to concentrate solely on performance during intense rodeo events.
Game-changing durability and Flexibility
With these leather spur straps, durability meets flexibility for a stride toward perfection. These straps are built tough, ready to keep pace with the most energetic junior bull riders. Moreover, the generous width of the spur straps provides added stability, potentially boosting the rider's confidence during challenging bull rides.
Unleash Your Adventure: Ride like a pro with the Rowdy Rowels Junior Bull Riding Spur Straps, designed for young and ambitious rodeo riders.
Craftsmanship at Its Finest: Each strap is meticulously handcrafted with precision and attention to detail, making it a true masterpiece.
Rodeo-Tough Durability: Built to withstand the toughest rides, these spur straps are made from high-quality latigo leather that guarantees long-lasting performance.
Solid Copper Rivets: The heavy-duty hardware, reinforced with solid copper rivets, ensures that these straps stay securely in place during intense rides.
Perfect Fit: Adjustable straps allow for a comfortable and customized fit, ensuring maximum performance and safety.
Stylish and Bold: The rugged yet stylish design of these spur straps adds flair to your riding gear, making you stand out in the rodeo arena.
Trust in Quality: With every stitch and fold, feel the exceptional quality that makes these spur straps the go-to choice for youth bull riding.
Safe and Secure: The sturdy buckle closure system ensures that the straps stay securely fastened, giving you peace of mind while riding.
Versatile Performance: These straps are perfect for rough stock events, providing the support and control you need to conquer any challenge.
Made to Last: Invest in a pair of Rowdy Rowels Junior Bull Riding Spur Straps and enjoy years of adventurous rides without compromising on quality