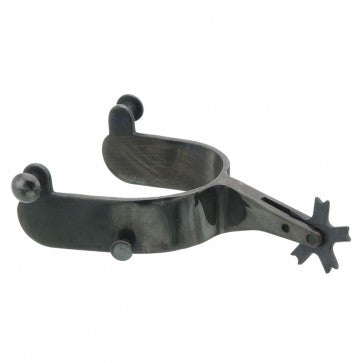 Rowdy Rowels Adult Bull Riding Spur 22-Degree Offset
Save

Liquid error (snippets/product-badge line 84): Computation results in '-Infinity'

%
Enhanced Performance with Skill-Specific Design
Meet the Rowdy Rowels Adult Bull Riding Spur 22-Degree Offset - a sophisticated blend of exceptional design and premium materials. These spurs are meticulously developed for bull and bareback riders who seek a robust accessory for their exciting rodeo adventures. Boosted by a meticulously set 22-degree offset, these rodeo essentials allow you to exert just the right amount of force and steer effectively. Aim for the stars and enjoy an elevated riding experience like never before. 
Superior Quality for the Modern Rider
Rowdy Rowels believes in nothing short of excellence. These bull riding spurs are created from high-grade black steel, promising both durability and robustness. The sturdy pair of 2 1/4" bull riding spurs with rowels guarantees longevity and consistent performance, irrespective of how rigorous your rodeo rides get. Invest wisely in Rowdy Rowels and experience quality that stands the test of time.
Ideal for Beginners and Pros Alike
Are you an enthusiastic beginner or a seasoned rodeo professional? No matter where you stand on the spectrum, the Rowdy Rowels Adult Bull Riding Spur has got you covered. This versatile riding accessory is designed to cater to diverse skill levels, making it an ideal gift for riders at heart. Elevate your bull riding gear with Rowdy Rowels and redefine your rodeo journey.
High-quality black steel construction: Our Rowdy Rowels Adult Bull Riding Spur 22-Degree Offset is crafted with precision from top-grade black steel, ensuring durability and long-lasting performance.

2 1/4" bull riding spurs: These spurs are designed to provide the perfect fit and comfortable ride for adult bull riders, giving you the confidence to conquer any rodeo event.

22-degree offset for optimal control and power: With its unique 22-degree offset, these spurs offer the ideal balance of control and power, allowing you to stay in command while riding those wild bulls.

Rowels for enhanced performance: Equipped with rowels, our spurs provide increased traction and grip, helping you maintain your balance and stay on top of your game.

Suitable for bull riding and bareback riding: Whether you prefer bull riding or bareback riding, our spurs are versatile enough to excel in both disciplines, ensuring a thrilling and successful ride every time.

Perfect for seasoned pros and eager beginners: Whether you're an experienced bull rider or just starting, our Rowdy Rowels Adult Bull Riding Spur 22-Degree Offset is a must-have accessory to elevate your performance and take your skills to new heights.

Adrenaline-seeking riders' ultimate choice: For those who crave the thrill of the rodeo, our spurs are specifically designed to meet the needs of adrenaline-seeking riders, providing the edge you deserve.